Association News
Last updated 2020-05-08
Trip to China 2019
In October 2019, a group of twenty of us, mostly Daoyin teachers, went to Beijing to train at the Sport University. We went to train with Professor Hu and his able, young assistant Han Xiaoming, but also a rare opportunity to see Professor Zhang, now that he is too frail to travel abroad. The trip was organised by Simon Watson at our end and Professor Hu's daughter Sissy in China.
We all stayed, and had some training sessions at a hotel in the University grounds. The other training sessions were in the Daoyin Centre, also in the grounds, so we did not have far to walk each day. We covered the 49 Dynamic Meridian Daoyin, the Hewei Jianpi Gong for the digestive system. On our last day of training we travelled away from the University to the Haidian Hall, to join teachers from across China in a day's training in the 12 movement form.
We also had some time on the first day to do some sight-seeing, and everyone split up and went their own ways and swapped stories and pictures at the end of the day. One day we were also taken to the 'wild side' of the great wall. It took a while to get there but the view was worth it in the end. We ate in a number of different local restaurants and tried a variety of different cuisines, and were joined by Professor Zhang on a couple of evenings.
One evening we had a special meal where Simon was awarded his Seventh Duan and Sally and Erik were made 'indoor disciples' of Professor Zhang. We then had an impromptu cabaret, where a number of the guests entertained us with songs and dances.
Longfei Summer Camp 2019
Hu Xiaofei returned again in July 2109 to teach at Longfei's annual summer camp. This year it was held at the High Leigh conference centre in Hertfordshire, which provided beautiful and relaxing surroundings, and fine weather meant that some of the sessions, especially the pre-breakfast Daoyin, could be held outdoors.
We were also lucky to have Linlin Choy to translate for Professor Hu. Linlin is a Daoyin expert and close disciple of Professor Zhang herself, so was able to capture things that ordinary translators would miss.
Hu Xiaofei Seminar 2018
More than 30 people attended two days of intensive training and an evening of questions and answers with Professor Hu Xiaofei, first generation disciple of Zhang Guangde, who last visited us in 1998. Most of those attending the invitation-only event were teachers, eager to refine their knowledge of Daoyin under the expert tuition of Master Hu.
Master Hu began by introducing us to the new 'Taiji Qigong Warm up Exercises' which everybody loved. Although these look very like Daoyin movements they are primarily designed to be warm up exercises, so you don't need the same degree of mental focus. He passed on some of the tips he had found over the years for improving our postures, such as relaxing our shoulders before trying to lift the tops of our heads, which makes it easier than the other way round.
When we began to cover the Daoyin Baojian Gong and Shuxin Pingxue Gong exercises Master Hu was very impressed by the standard of peoples performance so he was able to bypass the basics and pick out areas where different people could improve their performance. His observations were very acute and his explanations and demonstrations were very informative. He gave the best explanation I have seen of Push the Window to Look at the Moon.
Although Professor Hu's English is quite good we were fortunate to have Linlin (Diana) Choy back over from the US to translate for him. Linlin is very experienced in Daoyin herself and has been good friends with Professors Zhang and Hu for many years.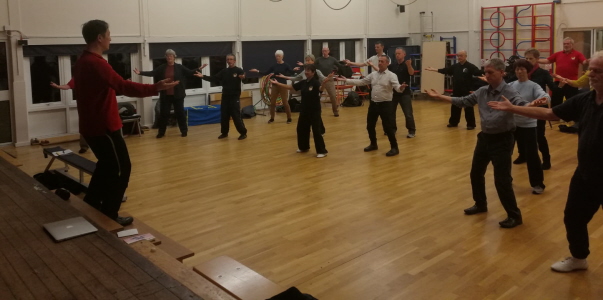 On the Monday evening we met up for a question and answer session, which covered a wide range of topics from the detailed to the general. As well as learning from his wealth of knowledge and experience we were all delighted by Professor Hu's infectious laugh, which greeted several of the questions he was asked. We also went through one of the foundation exercises Professor Hu has been working on with Professor Zhang.
This was a most rewarding few days and Simon hopes that he will be able make it an annual event.
Simon Watson Seminars in Potters Bar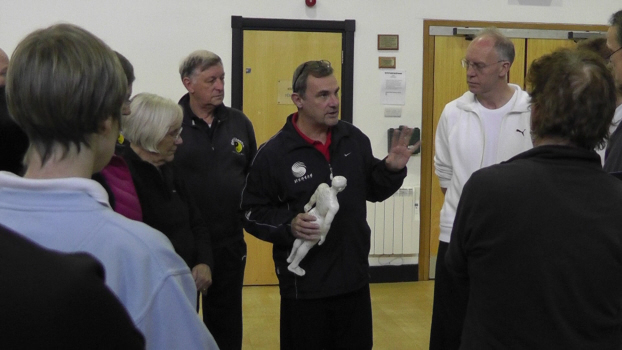 Simon Watson continues to give his annual Daoyin seminar in Potters Bar.
Thanks to his many visits to China to see Professor Zhang and professor Hu, Simon is able to go into a lot more detail, not jus on the movements of the forms, but also of the background from Chinese Medicine, and the cultural references, to show why we do what we do from different perspectives.
Combined with a clear teaching style, this makes for enjoyable and informative seminars.
With this level of teaching from Simon and the promise of more visits from Professor Hu, we can look forward to a rewarding future for Daoyin in this country.
British Health Qigong Association Festival in Ewell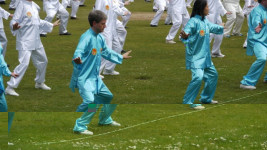 The British Health Qigong Association (BHQA) held a Qigong and Taiji festival in Ewell, Near Epsom, Surrey, at the end of April.
The Mayor of Epsom and Ewell attended along with representatives of the Chinese Health Qigong Association and the Chinese Embassy and over 300 Qigong and Taiji practicioners from around the country. Nearly 300 people, including several from the English DYYSG Association, took part in a mass demonstration of some of the Qigong sets the BHQA promote as well as the 24 step Taijiquan form. There were also some demonstrations by local schoolchildren.
The BHQA now includes Professor Zhang's Twelve Movement set among the Qigong exercises they promote. The Twelve Movement set is the only one devised by a living master, the others: Yi Jing Jin; Wu Qin Xi; Ba Duan Jin and Liu Zi Jue; being traditional. However, since it is the newest and fewer people have leart it so far, it was not included in the demonstraions.
The BHQA is run by our old friends Faye and Tary Yip and the organisers of this event included Vicky Ahern and Tony Hardiman whom many of our memebers will know.
Helped by the power of Qi keeping the rain off until all the outdoor activities were over, the Mayor and the rest of the delegation seemed to enjoy and be suitably impressed by the event.
Phoenix Cup competition in Datong
A personal report by Erik Foxcroft.
Sally and I received invitations to the First Shanxi Yangsheng Taiji competition (the Phoenix Cup) in Datong last November. Datong is about 350km West of Beijing in the North of Shanxi province, near the Mongolian border and looked like an interesting place to visit, so we planned a holiday around the event so we could watch the competition, take part in the workshop and do some sightseeing in a part of China we had not visited before (albeit in the August heat).
When Professor Zhang heard we were coming, the only ones from this country, he said we should take part in the competition, so we both opted to do the two Taiji Jin exercises and I entered the Daoyin Baojian Gong as well.
We had hardly arrived in Beijing when we heard that an official in Datong had decided that the organisers could not have Taiji and Qigong in the same competition, so we would not be able to compete after all. We decided to enjoy our few days in Beijing and then go on to watch the competition.
We travelled to Datong on a coach with Zhang Jian and atendees from several other countries including Indonesia, Singapore, Germany, Denmark, France, China and 19 from Belgium! It was an interesting four hour journey through the Chinese countryside.
On the journey Zhang Jian told us that the Taiji Jin forms were still included in the competition, so we would be able to take part after all. Fortunately we practise these forms regularly enough so that the lack of work for the previous few days should not make much difference.
In the evening there was an opening ceremony in the university indoor stadium where the competition would take place. Several groups of a wide range of ages and talents entertained us with dances and displays of wushu, Daoyin and Yangsheng Taiji. A local TV station was there to record it all.
On the following day Sally decided that her knee was not up to taking part (after all the walking round Beijing and four hours on a coach). So I went into the competition on my own. It was rather chaotic but fortunately my events were among the first so I was able to get them out of the way and relax whilst I watched the rest of the competition. I was quite pleased to score 9.6 for both sets but I did not get to see a full list of results. There were three judging areas in the stadium to cope with the large number of entries and we watched the belgian team perform one of the Taiji Bang sets and smaller teams perform some of the Yangsheng Taiji Palm forms. A few people were so keen to compete that, having their Daoyin Yangsheng Gong sets cancelled, they learned a new set, which did qualify for the competition, just the week before.
As the training had been changed as well as the competition we spent the afternoon and the next day sightseeing at the Heng Shan hanging monastery, the Yingxian wooden pagoda and the Yungang grottoes, all of which are well worth visiting.
In the evening of the 13th the closing ceremony was held at our hotel. It was a large gathering with a meal and lots of demonstrations of martial arts, Daoyin, music and dancing. The Indonesian group demonstrated one of their traditional dances (which looked like line dancing) and got everyone dancing along. Professor Zhang was obviously enjoying it and after a short while he got up and joined in to great applause from the crowd.
I collected my two gold medals and went to bid farewell to the Prof. He was very pleased that one of us had been able to take part and that the event had been so well attended.
Sally and I spent another week in China visiting the Wutai mountains (which we would not have done had it not been for the competition) where we were sung to sleep by the monks in the monastery attached to our hotel, Xian and Wudang Shan. We are putting some of our photographs on Google for anyone who is interested.
It was good to take part in the competition, my first and probably my last. It also introduced us to a fascinating part of China which we would probably not have visited otherwise.
Longfei group win first prize in China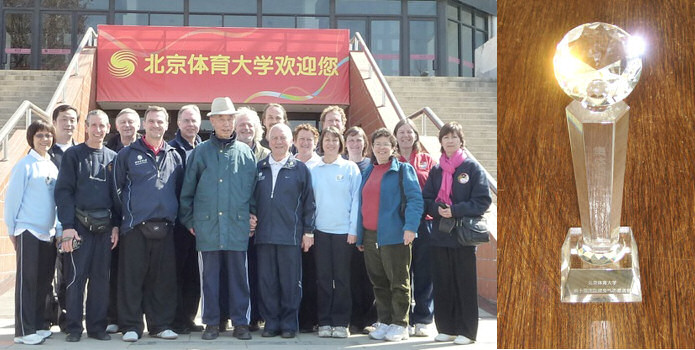 A group from the Longfei Taijiquan Association UK won the first prize for a group performance at the tenth health Qigong competition organised by the Physical Education University in Beijing.
This year's events coincided with the celebrations for Professor Zhang's eightieth birthday.
As well as winning gold at the competition the entrants were awarded Duan certificates by the University.
Click on the image to see more from this trip. Read more on the trip in the Longfei newsletter
A Year of Change
2010 is a year of many changes for European and English Daoyin Yangsheng Gong. First came the news that Professor Zhang's appearance In Biarritz would be his last. Then Mark Atkinson announced that he would be stepping down as President of the English Association. When Mark came to give his seminar in February he told us that the International Institute had effectively shut down as a training organisation (see below) but that the club which had hosted the courses would still be running seminars with Professor Zhang's nephew and that Professor Zhang would be there this October.
I can confirm that the Kunming Association of Biarritz is still running courses, having attended the October 2010 session. They also have a programme organised for spring 2011. Despite saying that April would be his last appearance Professor Zhang was there but this was almost certain to be the last time.
Mark has now handed over the presidency of the English Association to Richard Watson of the Longfei Taijiquan Association.
Read more below.
New Look Website Launched
The English DYYSG Association website has been revamped for 2010.
As well as being more colourful we hope the new menu will make the site easier to navigate.
Despite the new appearance we believe in substance before style. All the useful information from the old site is still included, along with some new material and we hope to add more in the future.
The way the site is constructed is designed to keep the size of the pages small so that they will download quicly even if you happen to have a slow connection.
We hope you enjoy the new-look site and if you have any suggestions for additional content please do not hesitate to contact Erik
International Institute News
Institute to become a publishing house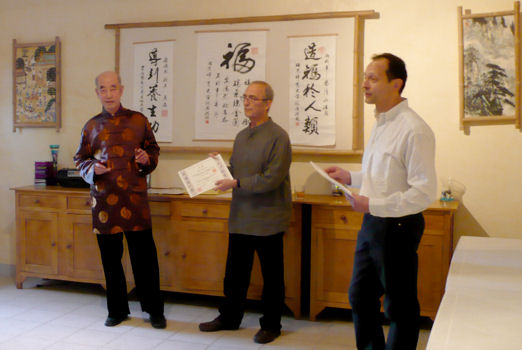 Last year Andre Peret, seen here with Professor Zhang and Mark Atkinson, who runs the Internaional Institute of Daoyin Yangsheng Gong, announced that the Institute would no longer be running courses. These are now being continued by l'Association Kunming, Biarritz
The Institute will be continuing to translate Professor Zhang's work into French and English. Latest news was that they had found a publishing company in the UK which was ideally suited to their needs and hope to be publishing new works soon.
We hope that the Institute is successful in its project and can add to the growing body of high quality material on the subject in English.
An Era Is Coming To An End
At the closing of the Diploma ceremony in Biarritz in 2009, Professor Zhang announced that his visit in April 2010 would - except for very special occasions - be his last to Biarritz, and probably to Europe.
The announcement, though saddening, was not entirely surprising as Professor Zhang had his 80th birthday in 2010, a reasonable age to retire by anyone's standard, and he had always said that he would commit himself for the first three year course, and after that hand over to his nephew, Zhang Jian.
In the event, the Professor continued for more than a year beyond his intended departure and even taught at the Association Kunming courses in October 2010.
So it is unlikely that we will see much more of Professor Zhang in Europe. However, Zhang Jian, Hu Xiaofei and other excellent teachers will still be visiting us and we now have our own close disciples of Professor Zhang working here in England (see below)
Richard Watson Honoured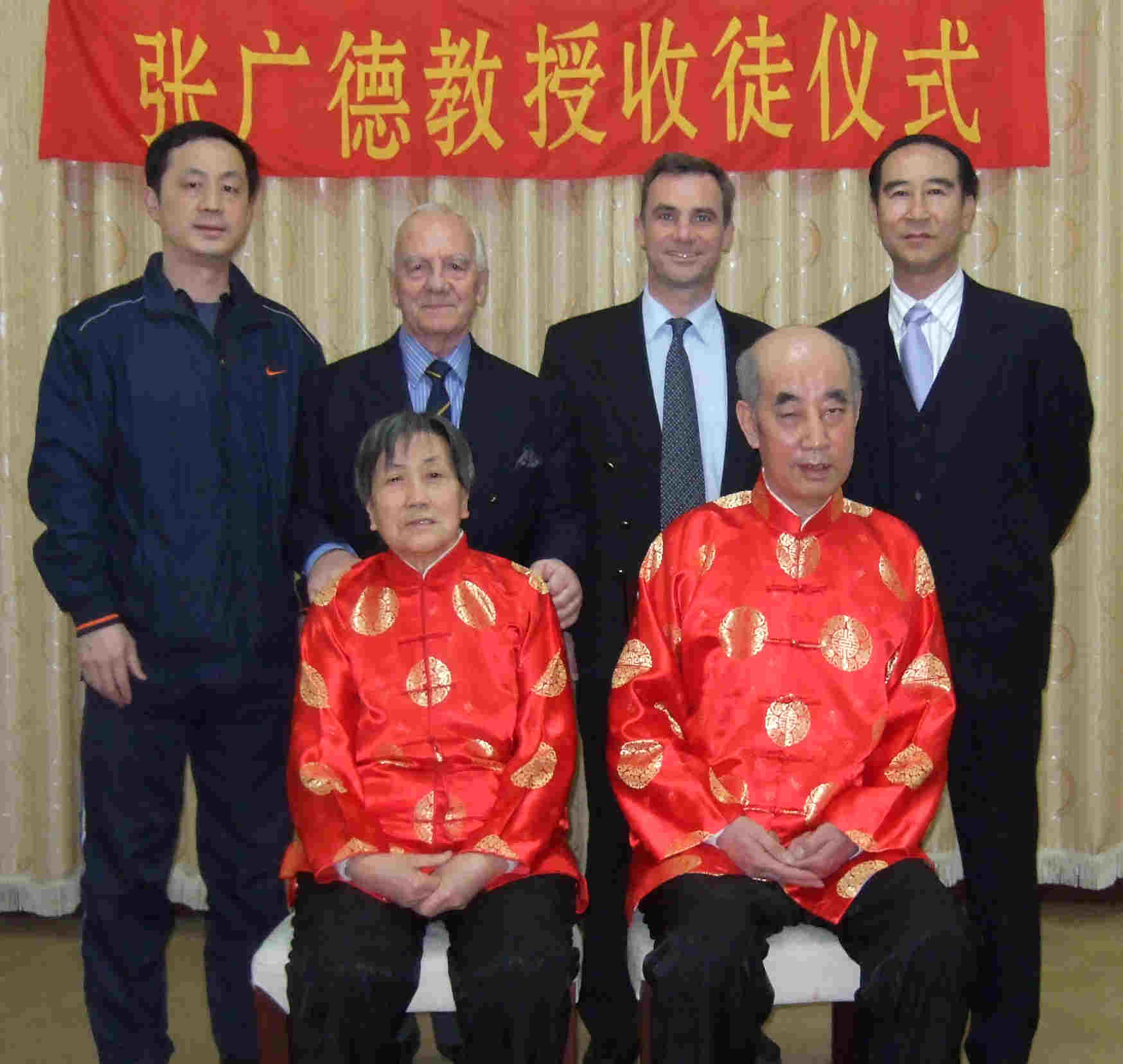 Everyone connected with the English Dao Yin Yang Sheng Gong Association offers their warmest congratulations to our President Richard Watson who was recently honoured by Professor Zhang Guangde with the award of the status of Ru Shi Di Zi ("close and outstanding disciple") in recognition of his invaluable contribution to the promotion and development of Dao Yin Yang Sheng Gong in England. The ceremony took place during the Longfei Tajiquan Association's visit to China this spring.
At the same time, Richard was also awarded the level of 6th Duan Practitioner of Dao Yin Yang Sheng Gong by the Beijing Sports University and the Dao Yin Centre founded there in 1999 By Professor Zhang and his 'disciples' at that time. Simon, Richard's son, Vice President of the English DYYSG Association and celebrated international teacher and practitioner of Taijiquan and DYYSG also received the award of 6th Duan, and we offer him too our heartiest congratulations.
Without Richard and Simon there is no doubt that DYYSG would be far less well known in the U.K., than it is, and the receipt of these prestigious awards is a well deserved and fitting recognition of their contribution.
Read more about the Longfei China trip and the awards in the Longfei Newsletter.