Beijing University of Physical Education and the Dao Yin Yang Sheng Gong Centre
Dao Yin Yang Sheng Gong was created by Professor Zhang Guangde during the time in which he was teaching in the Wushu Department of the Beijing University of Physical Education, so it is natural that the University became, and remains the centre of DYYSG teaching.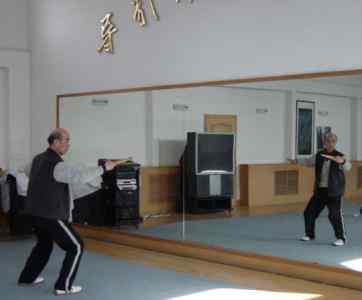 The University offers students from all over the world the opportunity to spend time - from a few days to two years - studying the practice and theory of Dao Yin Yang Sheng Gong, and many return again and again to benefit from the teaching programme.
The University's Department of Foreign Affairs is skilled and experienced in constructing programmes for individuals or groups of any size and for any duration . These programmes are able to provide accommodation, food and sightseeing in addition to training, and represent remarkable value. Interpreters are available for all major European languages, especially English if wished.
The quality of accommodation varies according to the particular package taken up. Very low cost packages are available for those who wish to stay for an extended period and are prepared to share a room and bathroom facilities of a very basic standard. At the other end of the scale, but still representing extremely good value for money, single rooms with private facilities, air conditioning and colour T. V. are on offer for those who prefer a little more comfort.
Teaching for foreign students is usually provided by Professor Hu Xiao Fei.
Details of training packages are available from:-
The Division of Foreign Affairs
Beijing University of Physical Education
Yuan Ming Yuan East Road
Beijing 100084
Peoples' Republic of China
Tel: 0086 10 62989297
e-mail: bupe@public.bta.net.cn
The Dao Yin Yang Sheng Gong Centre
As a tribute to Professor Zhang Guangde and to the popularity of Dao Yin Yang Sheng Gong, a dedicated centre of Dao Yin studies opened in 2000 within the Beijing University of Physical Education.
Constructed by the University with the financial assistance of Professor Zhang's close personal students (Ru Shi Di Zi) and other supporters, the Centre provides excellent training and teaching facilities, as well as an administrative and management base.
The Director of the Centre is Professor Yang Bailong, Professor Zhang's most senior "Di Zi"
The Centre normally caters for groups of visitors, but welcomes enquiries from interested individuals.