Zhang Jian - A Brief Profile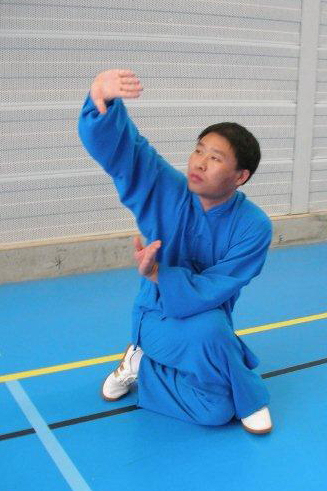 Zhang Jian, the nephew of Professor Zhang Guangde, was born in 1976 in the town of Feng Run, Hebei Province, China.
He did not begin his study of Dao Yin Yang Shang Gong until September 1993. Prior to that he had studied Wushu in his home town for five years, but when diagnosed with the same inherited blood condition as his uncle, he was forced to abandon his training in favour of something a little less physically demanding.
Initially studying the Dao Yin forms for the Heart, Lungs and the 49 Dynamic Meridian Exercises for his own benefit, his natural aptitude produced rapid results for his own health and his Dao Yin performance, and in 1994 he began assisting Zhang Yu Song, Professor Zhang's son, himself a noted Dao Yin teacher and now responsible for the organisation of Dao Yin teaching in Japan.
In 1996 he enrolled in the Wushu Department of the Beijing Sports University, but he was unable to maintain his studies, and in 1998 he began working full-time as an assistant to his uncle, beginning to teach in his own right in 2001.
During that period, he assisted the Professor in many countries in Europe and throughout the world, and now regularly teaches in France, Portugal, Italy, Germany, Spain, Austria, Romania, Hong Kong, Singapore, Australia and Indonesia.
Thus Zhang Jian has not taken the "traditional" Chinese route to eminence in Dao Yin teaching of progressing through the ranks at the Beijing Sports University, but instead has developed his expertise through close, intense personal study on a daily basis with his uncle over the last nine years. He has had the benefits not only of acting as the Professor's model and thus constantly perfecting his postures and movements, but also of witnessing his uncle's teaching methods and deepening his understanding of traditional Chinese medicine theory. In addition, he lives with his uncle during these teaching periods, and thus his education continues long after the classes are over.
As a teacher, Zhang Jian is firmly in the traditional school; he is thorough and precise, expecting hard work and close attention from the participants. In return, his demonstrations are of breathtaking quality, his explanations clear and his attention to detail remarkable.
All the leading international Dao Yin teachers have their own emphases in their teaching, and Zhang Jian is no different in this respect. When working with him, particularly when studying one of the various Taiji forms, but also in the therapeutic sequences, he emphasises two aspects:
What is the Qi doing when we make this movement?
How can we perform this movement with Shen Fa?
A simple example of the first element can be seen in Zhang Jian's insistence on the precise mechanics involved when lowering the arms during a sequence. Why? Not for aesthetic reasons, but because this movement done correctly lowers Qi to the Dantian.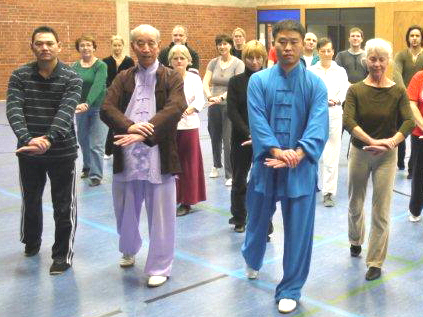 Shen Fa (body technique) may be described as the ability to generate internal movement in order to produce external movement. It is an advanced technique, but central to the practice of DYYSG if the best results are to be achieved. Currently Zhang Jian is developing a series of preparatory exercises designed to develop facility in Shen Fa.
Politics rears its ugly head in Dao Yin as in all things, and it remains to be seen what official position Zhang Jian will hold when Professor Zhang takes permanent retirement, the most likely being that he will be the director of the series of schools the Professor is currently founding in various European countries. Whatever happens, this young man's contribution to the development of DYYSG in Europe now and in the future, is second only to that of his uncle.
Zhang Jian lives in Singapore with his wife and five year old daughter.
You can train with Jian Zhang in various countries in Europe, but particularly recommended is training in Association Kunming in Biarritz, France. (www.kunming.fr).
(This profile is the result of an informal interview with Zhang Jian by Mark Atkinson in Biarritz in April 2010).