The Longfei Taijiquan Association of Great Britain was founded by Richard Watson in 1991. It was founded at the invitation, and with the encouragement of, Master Li Tianji, the "Longfei" of the title, and his nephew Professor Li Deyin. Professor Li is one of China's foremost Taijiquan teachers and coaches and also a friend and colleague of Professor Zhang Guangde.
The Association has around forty teachers and hundreds of members around the country. It organises a number of seminars on Taijiquan and Daoyin each year with teachers from around the world. It also arranges occasional trips to China.
Longfei also offers assessments and accreditation in Daoyin Yangsehng Gong exercises for people interested in improving their performance or in teaching.
Most of the accredited Daoyin Yangseng Gong teachers on the English DYYSG Association list are members of the Longfei Taijiquan Association and Longfei has been the main organisation introducing and promoting Daoyin Yangsheng Gong in England.
Richard Watson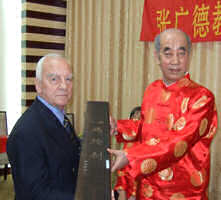 Richard Watson, Chairman of Longfei Taijiquan Association of Great Britain, has taken an active interest in martial arts since 1949. He began training in Taijiquan in 1973, at the Liu Academy. In 1974 he met and began training with Master Chu King Hung. The association was to last until 1992. In 1978 he was initiated into the tradition and elected senior student. Richard first met Professor Li Deyin at the People's University in 1988 and has been training with him since that time both in Great Britain and at the People's University, Beijing. His further studies have taken him to China, Malaysia, Hong Kong and Singapore. He has acted for the British Council for Chinese Martial Arts in the capacity of manager and team leader of the British Wushu Team during the 1994 European Wushu Championships in Germany and also at the 1995 and 1997 World Wushu Championships in the USA and Italy.
He first encountered Daoyin Yangsheng Gong at the People's University in the 1980s, receiving tuition from a visiting teacher from the Qigong Research Institute. Later he learned more from Dr. Dan Lijun, a Traditional Chinese Doctor, practicing in the UK. He finally met Professor Zhang on his first visit to Europe when he was brought over to Jersey by Mark Atkinson, then Chief Instructor of the Daoyin and Taijiquan Centre in Jersey.
In 1995 Richard, Mark and Gordon Faulkner from Scotland travelled to China to study with Professor Zhang at the University of Physical Education. They were given permission to teach and promote Daoyin in the United Kingdom and were given membership to "The Chinese Daoyin Qi Gong Association".
In the spring of 2008 Professor Zhang presented 11 of his disciples with a specially made sword during an auspicious ceremony in China. Among the disciples who received a sword were his most senior students including Yang Bai Long and Hu Xiao Fei. Richard Watson was also included in the ceremony. He was made a 1st generation Ru Shi Di Zi ("close and outstanding disciple") for his 19 years of commitment, involvement, vision and tireless promotion of Professor Zhang's Daoyin system. At the same time, Richard was also awarded the level of 6th Duan Practitioner of Dao Yin Yang Sheng Gong by the Beijing Sports University and the Dao Yin Centre for his technical excellence and performance.
Simon Watson
Simon Watson is Senior Technical Advisor to Longfei Taijiquan Association of Great Britain. He began his training 21 years ago with his father Richard Watson. Since the formation of Longfei in 1991 he has trained extensively with his father, Professor Li De Yin and Master Wang Yanji. He has had a successful career in British Taiji competition and has been team captain to the British Wushu Team for both the European and World Wushu Championships.
In the spring of 2008 Simon was made a Disciple of Professor Zhang and awarded a 6th Duan for his efforts promoting Daoyin Yangsheng Gong throughout the United Kingdom for the previous 19 years. Professor Zhang was very enthusiastic about Simon's work and he has been invited back for further study.