Mark Atkinson
A Brief Autobiography
Mark Atkinson founded the English Daoyin Yangsheng Gong Association and was its President until February 2010. The following article is based on an interview for the European Daoyin Yangsheng Gong Federation before his retirement. Mark is still happy to see and hear from his many friends, old and new, from the Association. He is still developing his knowledge of Daoyin and working with Professor Zhang and his colleagues and translating his works into English. If you go to a DYYSG event in France he may even be able to traslate for you.
I am a retired primary school head teacher, and although I am the president of the English DYYSG Association, I now live in the countryside in the Charente Maritime in south west France, with my wife who is a shiatsu practitioner and teacher, where I offer courses in DYYSG and Taijiquan and my wife teaches shiatsu to professional level.
Before moving to France, we had lived on the island of Jersey for many years where, in addition to my "proper job", I also taught DYYSG.
In the early 90s I had just started a small Taijiquan club, but I no longer had a teacher of my own.
On an impulse, two friends and I decided that it would be a "good idea" to go to China to train, even though at that time we had absolutely no idea of how to go about arranging it! Nevertheless, in 1993 we found ourselves sitting in a huge, quite luxurious, reception room in the Beijing Sports University, with the director of the Foreign Affairs Department, arranging our training programme.
He suggested that we study 24 step Taijiquan, as we were already familiar with it, along with a qigong form which he thought we would find interesting.
That agreed, he introduced us to our teachers -- Professor Lu, a very accomplished teacher of Taijiquan, and Professor Zhang Guangde. Our connection with DYYSG had begun.
Even though at that time I had no idea at all about DYYSG, Professor Zhang's name was known to me, so I knew we were privileged to have him, but I only realised how privileged when we discovered that we would not be, as we had thought, working in an enormous group, but having him and Professor Lu to ourselves each day!
By the end of our study we had greatly improved our 24 step Taijiquan, and we had learned Dao Yin Bao Jian Gong, the DYYSG form for promoting general health.
It appears that I was the first English student that Professor Zhang had taught, and he asked me to introduce DYYSG into Jersey, which for him was synonymous with England. The following year he accepted an invitation to come to Jersey for a month, and I believe that it was from this small beginning that DYYSG became known in the UK and in various other countries in Europe.
For me personally, his visit resulted in my club becoming five times bigger overnight, and the opening of a whole new avenue of experience which has led me to China several times and brought me into contact with many people who have profoundly influenced my life, most importantly of course Professor Zhang himself.
In 1999, Professor Zhang made me a "Ru Shi Di Zi", the nearest translation of which is "disciple", but I don't like that term very much, and prefer "close student". As a close student I feel that I have accepted responsibility to disseminate information about DYYSG and to do what I can to support Professor Zhang in his various projects -- for example, at the moment I'm assisting in promoting the International Institute of DYYSG which he has created in Biarritz.
Although I may have got the ball rolling, the real credit for the development of DYYSG in England must go to those people who put themselves forward for accreditation and have imported the system into their clubs. In this present time we have about 30 accredited instructors regularly teaching between 3000 and 5000 practitioners, so it is these people who've really spread DYYSG in England, and I've just been the catalyst.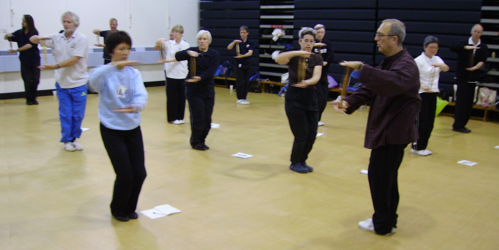 So the first major development in DYYSG in England has been the creation of a network of accredited instructors presenting the system to thousands of practitioners. This in itself is very gratifying for me, but perhaps even more so has been the appearance of DYYSG in more "medical" contexts.
For example, accredited teachers are working with HIV positive and cancer patients, Parkinson's sufferers and people suffering from a variety of serious conditions. The aim here is not to "cure", but to support and help the individual to support themselves. The recent introduction by Professor Zhang of a form for the prevention of diabetes, provides a further opportunity for DYYSG in this area. I would like to mention in this context the work of Tina Borfiga and her colleagues in Jersey. Several years ago Tina pioneered this type of work on behalf of the Jersey Health Department, having particularly remarkable results with a group of Parkinson's sufferers. Since then, the use of DYYSG to help sufferers of chronic illness has become well established in the island. If development in England continues in this way, I shall be well content.
There are two things which are particularly important to me at this moment: The first obviously, is the continued spread of the practice of DYYSG led by accredited instructors. To help with this I would encourage anyone in England reading this article who thinks they might be interested to become accredited to contact me directly, or anyone who thinks they may like to try to learn DYYSG to go to the English website for a list of instructors in their area. I would particularly want to encourage people in the Midlands and North of England where DYYSG is less represented than elsewhere.
The second is to encourage as strongly as I can everyone in Europe with a genuine interest in DYYSG to go to the website of the International Institute of Dao Yin Yang Sheng Gong (now run by l'Association Kunming, Biarritz) where you will find information (in English) of the series of seminars conducted during the next three years by Professor Zhang himself assisted by his nephew Zhang Jian, his closest pupil and probably the best practitioner of DYYSG in the world. This series of seminars is open to everyone at every level. It covers the entire DYYSG system including the Taiji hand and weapons forms and includes also in-depth theoretical study.
Participants can sign up for one, several or the entire series of seminars, and I can assure you from personal experience, there is no better teaching in DYYSG available anywhere in the world including China.
I truly believe that the best way to improve the teaching and learning of DYYSG in Europe is for as many people as possible -- from novice to expert -- to participate in at least one of these seminars.
Read about Makrk's Diploma.