Click or tap on an image to see a collection of photographs of Professor Zhang.
It is with deep regret that I have to announce the passing of professor Zhang Guang De. He was a remarkable man and his contribution to Chinese Health culture has been unprecedented. My father Richard Watson first met professor Zhang in April 1989 when he went to China with Ken Homan with a group of English students. With him on the trip was Chew Yeen Lawes. On his return he began to teach the heart set and was the first person to bring DYYSG back to the UK In the April 1989. Amongst the first students to learn was Steven Price, Anne Gathercole and Chew Yeen and Diana Choy. I would like to extend my deepest sympathies to professor Zhang´s family friends and students all around the world. Simon Watson Chairman of the English DYYSG association.
---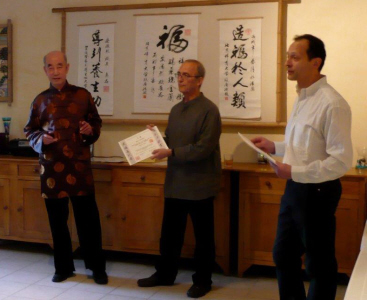 Like everyone who has ever met and worked with him, I am deeply saddened by the passing of Professor Zhang Guangde. Alongside my parents and of course my wife, I regard him as the most influential figure in my life.
As I write this, my memories are not so much about his depth of knowledge and understanding and his inspirational teaching, we have all experienced them. Leaving aside the personal kindnesses he showed me (they´re not for sharing), when I think of Zhang Guangde, my memories are of seemingly inconsequential things, but they are what brings a smile when I look back on my experiences with him. I remember for example, when he came to my home in 1994 and rooted through our kitchen drawers, examining each fork minutely, before asking for chopsticks. Or, when invited to his home, how we spent the evening learning to make Dim Sum, while he sat with his baby grandchild on his knee, teaching him simple rhymes.
One abiding memory is of taking him to the restaurant of a good (Chinese) friend, who had kindly offered to provide meals for him during his stay with us. Although the restaurant was closed that evening, Ming welcomed us, disappeared into the kitchen and emerged with an enormous crab and a lobster, from which he produced a wonderful meal. From then on, even years later, whenever I met the Professor, he would always ask how Ming was, and then regale anyone else there with tales of his feast.
However, my most affecting memory is of Professor Zhang´s hands, with their long, elegant fingers and nails like polished almonds, and the surprising gentleness of his touch, and it is the image of those hands & the memory of that touch, that encapsulate for me with affection, Professor Zhang Guangde Mark Atkinson First President of the English DYYSG Association
---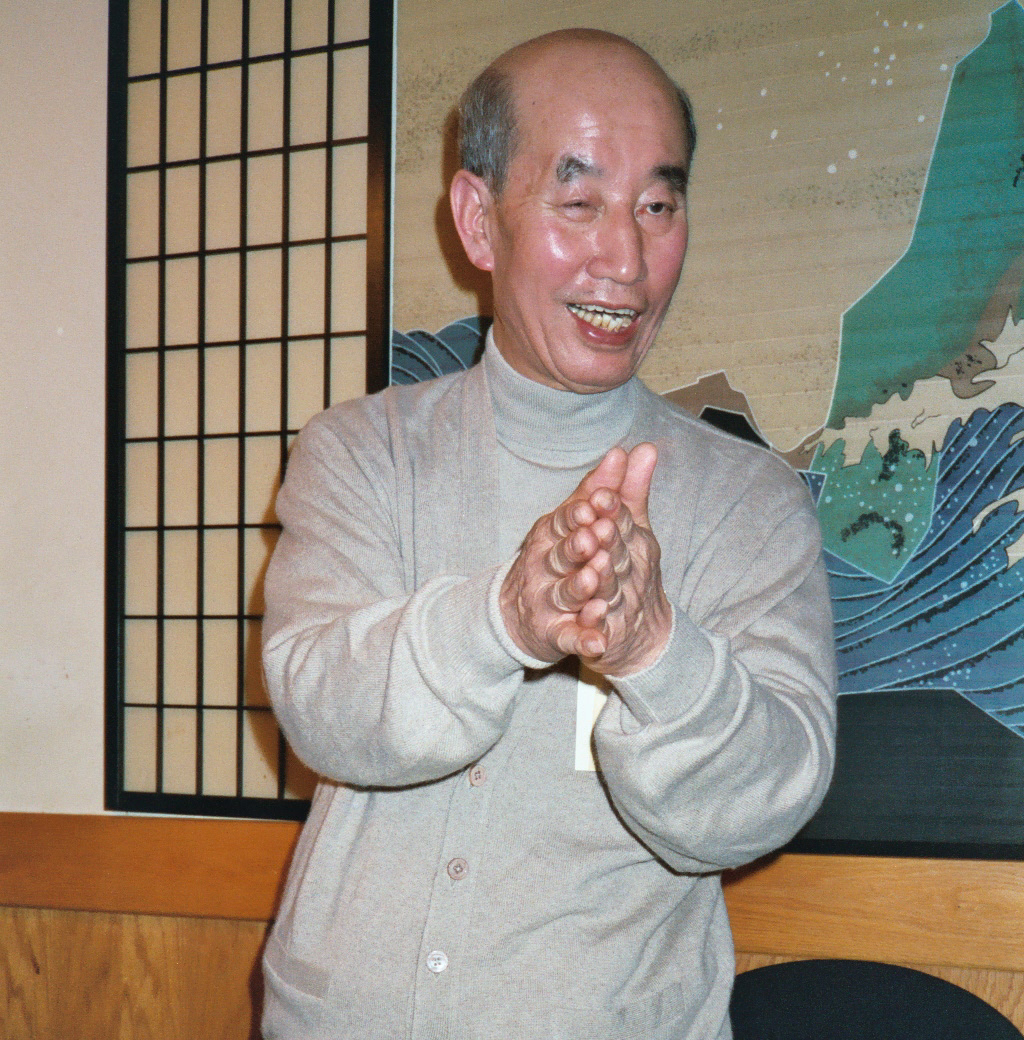 Sally and I were fortunate enough to meet Professor Zhang for the first time when our friend Linlin Choy invited him to New Hampshire in 2003. We already knew of his great talent for devising interesting and rewarding exercises, but that trip also showed us what a kind and generous man he was, and his great sense of humour, as well as his love for 'magic' tricks. Sadly, his teaching videos and seminars rarely gave him the opportunity to smile, let alone laugh or joke, so those who have never met him might think he was a serious and stern man, but when he was truly happy, his smile and his laughter were delightful. Whenever we met him after that trip he greeted us like old friends and made us feel most welcome.
Professor Zhang will be greatly missed, and I hope those of us who knew him and learned from him can keep alive the legacy not just of his system, but also of his spirit.
Erik Foxcroft
Vice-chairman of the English DYYSG Association
---
The first words Prof. Zhang said to, as he corrected my posture, were, "This is too easy for you." Ten minutes later, as he was making another correction to my posture, he said, "This is still too easy for you." I did not think it was easy at all! But Prof Zhang had an amazing ability to see the potential in his students, and under his guidance, it did eventually become easy-er.
At one point, there were estimated to be 4 million people practicing Daoyin Yangsheng Gong. That is a testament to Prof. Zhang´s impact on the world. A great man has gone - probably to Penglai, the Isle of the Immortals - but he left a great legacy behind.
Gordon Faulkner
Founder of the Scottish and Welsh DYYSG Association
---
We will post further tributes as they arrive
If you are an accredited instructor and would like your details included on this site please contact Simon Watson